Backspace Bar & Kitchen
139 Chartres Street
Located at the Intersection of Drinking & Writing.
Backspace Bar & Kitchen New Orleans is the perfect French Quarter oasis for culinary, literary and cocktail aficionados.
Recently remodeled with new seating and decor, the long mahogany bar still remains as mute testimony to days gone by where writers from many walks of life have penned thoughts and scribbled vignettes on dirty napkins.
Backspace is the perfect spot to grab a bite, have a drink, and get those creative juices flowing.
OUR STORY:
written by Midnight Boheme for
Backspace Bar's website introduction
Pairing a cocktail with the creative process is like uncorking bottled poetry. Luckily, New Orleans is like a good page-turner, filled to the foamy rim with a smorgasbord of inspiration. Backspace Bar & Kitchen is a novel destination for wordsmiths and epicureans alike.
Both barflies and book clubs find solace in the cozy civility of Backspace Bar where liquor bottles line the bookshelves and the patrons are equally obsessed with literature and libations. Serving comfort food and classic cocktails, Backspace offers a literary feast for the senses with the Grown-Up Grilled Cheese, Hemingway Cuban Sandwich, and Grandma's Meatloaf with Housemade Chip.
Smack dab in the heart of the French Quarter, Backspace Bar pays homage to New Orleans wordslingers such as Faulkner, Twain, Tennessee Williams, and every infamous author whose clattering typewriters still echo. Come get well-oiled on witty repartee in the Vieux Carré!
​
LOGO & MERCHANDISE
Midnight Boheme revised the existing Backspace Bar & Kitchen logo for a series of merchandise items that are currently sold at the one and only Backspace in the French Quarter of New Orleans. Items include stylish koozies that feature a map showing the bar's location on Chartres Street.
In keeping with Backspace's literary theme, Midnight Boheme also hand-sketched digital portraits of infamous authors such as Ernest Hemmingway, William Faulkner, and Mark Twain complete with famous quotes by each writer that are printed on sleek black t-shirts and sold at the bar. Pick your favorite and buy one today!​
BUSINESS CARDS
Featuring the official "Muse" of Backspace, the creativity of the bar's business cards are only more fabulous by the iconic Veronika the Va-Va-Voom girl!
Veronika, Backspace Bar's saucy muse, is both a spitfire and a scholar. She adores reading and discussing the classics, and she has a particular affinity for the authors that hail from her beloved Crescent City. She defies typical domestic stereotypes, opting instead to read and enjoy cocktails, all while looking absolutely fabulous.
Read more about Veronika at the Backspace Bar & Kitchen website. CLICK HERE!
​
PRINT ADS
Boasting the catchy tagline Cooking Creativity & Pouring Inspiration: Cocktails & Cuisine with a Literary Twist, Backspace Bar & Kitchen prints occasional advertisements featuring their delicious-looking photographs and stylized ads by Midnight Boheme in such publications as Where Y'at and the New Orleans Discount Directory.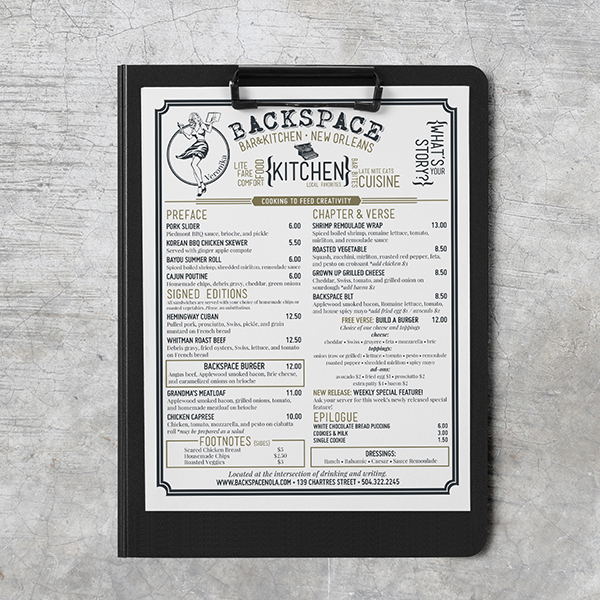 COCKTAIL AND CUISINE MENUS
Featuring Veronika the Muse and some catchy phrasing, the Backspace Bar & Kitchen's cocktail and cuisine menus are a proud showcase for Midnight Boheme's flair with menu design.
Stop by Backspace Bar & Kitchen and be sure to try the Grown Up Grilled Cheese sandwich. It will make you feel like a kid again!
​
All images and content designed, created, and authored by Laura Kuhn | Midnight Boheme.
© 2018 MIDNIGHT BOHEME, LLC. All Rights Reserved.

WEBSITE
As winner of Best Bar Food by Where Y'at Magazine in 2016 and 2017, Best French Quarter Bar & Best Bar Food by Gambit in 2015, and the Certificate of Excellence by TripAdvisor in 2015, Backspace Bar & Kitchen has gained recognition over the past few years. Its prohibition-inspired website design by Midnight Boheme helps promote and spotlight the bar's amazing cocktails, cuisine, and unique atmosphere.
​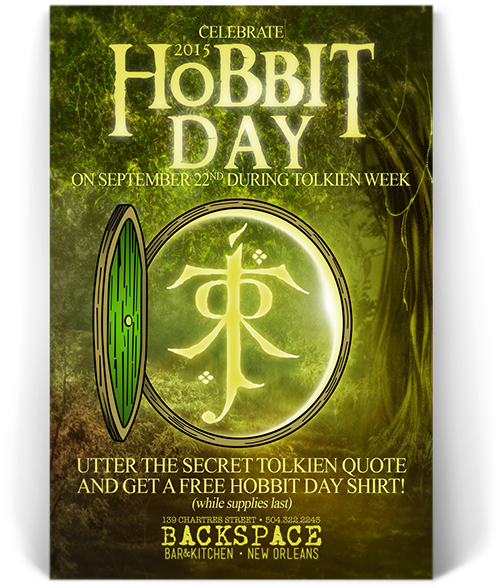 SPECIAL LITERARY EVENTS
Backspace Bar & Kitchen's owners are avid participants in all things literary. The annual Tennessee Williams Literary Festival offers the perfect opportunity to unveil the Midnight Boheme designed t-shirts featuring a hand-sketched profile of Tennessee Williams with one of his famous quotes, and the annual day to celebrate Tolkien's novel "The Hobbit"​opened up the chance for a marketing campaign to utter the secret Tolkien quote and receive a free Midnight Boheme-designed Hobbit Day t-shirt at the bar!
GRAPHIC DESIGN • BOUTIQUE CREATIVE • NEW ORLEANS
GRAPHIC DESIGN • BOUTIQUE CREATIVE • NEW ORLEANS